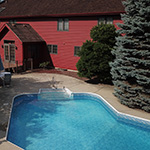 Many people buy a gas or heat pump pool heater to extend the use of their swimming pool by a few months or to heat their spa year-round. For these reasons, a pool heater can add extra value to your pool.
When considering gas pool heater installation, there are a few things to consider:
Location of the heater
Gas and electric lines
Plumbing
That's why it's vital to use a professional that is familiar with the various makes and models of pool heaters.
Choosing the right pool heater for your pool doesn't have to be complicated. E & J Heating and Cooling LLC will walk you through the options and help you choose the best heater for your needs and budget. With a pool heater installed by E & J Heating and Cooling LLC, we can get you swimming earlier and keep you swimming later in the season while saving you money! We'd be happy to recommend and install the perfect gas or heat pump pool heater for your size and style of pool.
Give us a call today at (317) 376-3473